Help spread Ike around the world. Grab a logo and use it to promote Ike's message:
Don't mock me. Write real tests!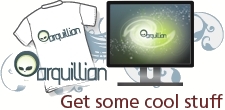 The artwork for JBoss Community projects is created by the JBoss design team. The Arquillian artwork includes a logo, an icon (named Ike), mood icons and a desktop wallpaper. You can also get swag (t-shirts, buttons, etc…) printed with the logo or icon.
Logos
If you are using Arquillian in your project and want to include it on your project page or in a presentation, you may be interested in using one of the logos below. To download, right click the image and choose "Save Image As…"
Available sizes: 600px | 450px | 200px | 100px
Icons
If you are looking for just the icon (Ike), grab one of these:
Available sizes: 256px | 64px | 32px | 24px | 16px | 16px
Emotional Ike Icons
Ike is an emotional character. He cheers when the built succeeds. But he gets down, sometimes furious, when the build fails. We've created icons to reflect his emotional state. Look for them in the build indicator column on the builds status page.
Desktop Wallpaper
If you really want to show your Arquillian pride, grab the desktop wallpaper. Choose the the appropriate resolution below for your monitor, tablet, or mobile phone.
Resolutions: iPhone | 1024×768 | 1024×800 | 1280×800 | 1440×900 | 1600×1200 | 1680×1050 | 1920×1200
Swag
Show your Arquillian spirit and passion for testing on the streets by sporting some of the Arquillian gear from the CafePress store. Items available include t-shirts, buttons, pint glasses, mugs, water bottles and more.